When did your last period start?
Your baby is likely to be born on or around*
Stages of your pregnancy:
Your last cyle started on
First Heart Tones by Ultrasound (6 weeks)
Best date range for NT scan (11 weeks to 13 weeks 6 days)
Best time to evaluate cervical length in patient with risk factors
TIFFA Scan (scan to detect anomalies) (18 to 20 weeks)
Estimated fertilization date
*Only your physician can accurately determine your due date or the date of your conception based on his/her knowledge of your complete medical condition.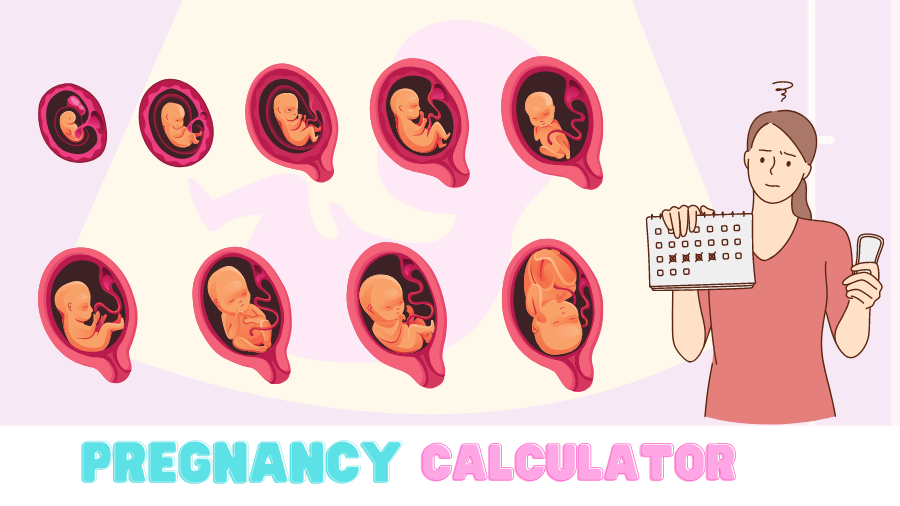 How to calculate your expected date of delivery?
You can calculate your expected delivery date by following the steps below.
Using the date of your last menstrual period :
Usually, pregnancies last for 40weeks or 280days from LMP(last menstrual period), and Just 4% of babies are born on the expected delivery date. One may go into labor anytime after 37 weeks of pregnancy.
If you have a regular 28day menstrual cycle, you can use the following methods :
Naegele's rule to calculate your expected date of delivery :
Add seven days to the first day of your last menstrual cycle, and then subtract three months.
— Naegele's rule
for example, if your LMP(last menstrual period) is on October 1st, 2022 then you need to add 7 days to Oct 1st that is Oct 8th and then subtract 3 months i.e, July 8th, 2023.
Using conception date: If you know the ovulation day by tracking ovulation symptoms or ovulation test strips, you can add 266days to get the expected delivery date.
Due date calculation using ultrasound: when your periods are irregular, we need to rely on an ultrasound to determine the gestational age and due date. In the ultrasound, we measure the crown-rump length of the fetus and determine the gestational age.
During the first trimester, the results will be accurate. We call the early scan the dating scan and the most reliable for calculating the expected delivery date.
The dating scan calculated during the second trimester will not be accurate with about two weeks disparity. During the third trimester, there will be almost three weeks disparity 3rd-trimester scan is not used for dating the pregnancy.
How do you calculate your due date if you are unaware of your last menstrual date?
An early ultrasound can determine the fetus's gestational age; based on that, we can calculate the due date.
How to calculate your due date if your menstrual cycles are irregular?
For some women, menstrual cycles are not regular and have longer cycles like a 35days cycle. Some calculations must be done to estimate the expected delivery date in these cases. Always remember that the second half of a woman's menstrual cycle lasts 14 days, from ovulation to the next menstrual cycle.
For example: If you have a 35days cycle, you must have ovulated on day 21. Once you get to know when you ovulated, you can use adjusted LMP to find the due date using the calculator