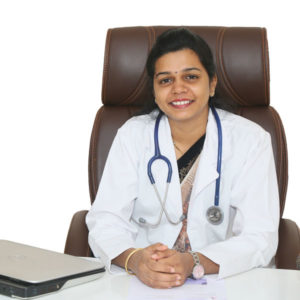 Dr. Ramya Sadaram (MBBS, DGO, FMAS, DMAS, FRM, FAN) is an Obstetrician and gynaecologist based in Visakhapatnam. In addition to her medical degrees from the prestigious Andhra Medical College, she is also a laparoscopic surgeon, fertility specialist, lactation consultant, certified childbirth educator, and clinical nutritionist. Dr. Ramya Sadaram has a keen interest in childbirth education and the clinical management of labor, and she prides herself on providing dedicated attention to her patients.
Dr Ramya was among the first to start educational programs and antenatal classes focused on labor preparation for expectant couples in Visakhapatnam. To learn more about these programs, visit the Blissful Pregnancy website.
Dr. Ramya Sadaram is one of the best gynaecologists and fertility specialists in Visakhapatnam.
Dr. Ramya Sadaram's professional education and training include:
MBBS, Andhra Medical College
DGO, Andhra Medical College
Fellowship in Minimal Access Surgery (FMAS)
Diploma in Minimal Access Surgery (DMAS)
Fellowship in Reproductive Medicine (FRM)
Fellowship in Applied Nutrition, Apollo Hospitals ( FAN )
Certified Childbirth Educator
Dr. Ramya Sadaram is a member of the following professional organizations:
Indian Medical Association ( IMA )
World Association of Laparoscopic Surgeons
The Federation of Obstetric and Gynaecological Societies of India (FOGSI)
Obstetric & Gynaecological Society Visakhapatnam (OGSV)
PCOS SOCIETY
Nutrition Society Of India
Dr. Ramya Sadaram has a proven track record of successfully treating patients with various gynaecological conditions, including infertility, fibroids, adenomyosis, ovarian cysts, endometrial polyps, tubal blockage, and ectopic pregnancy. Additionally, she provides specialized treatment for Polycystic Ovarian Disease (PCOD) / Polycystic ovary syndrome (PCOS), Abnormal Uterine Bleeding (AUB), Fibroids, and Endometriosis. Dr.Ramya Sadaram also offers customized diet plans for individuals with PCOS, pregnant women, and lactating mothers.
Dr.Ramya Sadaram specializes in the following areas:
Gynaecological and Obstetric problems
Laparoscopic surgery ( Minimal access surgery)
Infertility Treatment
Antenatal & Postnatal Care
High-Risk Pregnancies
PCOS/PCOD Management
Lactation Consultation
Lamaze Breathing Technique
Pregnancy Fitness & Yoga
Diet & Nutrition during Pregnancy
Clinical Nutrition
Dr. Ramya Sadaram is dedicated to delivering comprehensive and personalized care to her patients. She places great emphasis on ensuring that patients understand their symptoms, diagnosis, and the necessary measures for achieving optimal health.