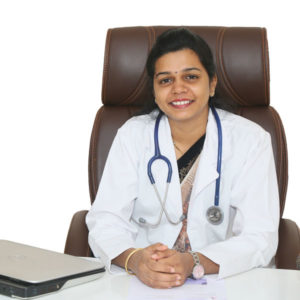 Dr Ramya Sadaram (MBBS, DGO, PGDND, FAN) is an Obstetrician & Gynecologist in Visakhapatnam. She is also a lactation consultant, a certified childbirth educator, and a clinical nutritionist. Dr Ramya Sadaram received both of her medical degrees, MBBS & DGO from the prestigious Andhra Medical College, Visakhapatnam. She has a particular interest in childbirth education and the clinical management of labor. Dr Ramya prides herself on the attention and dedication she provides to her patients.
Dr Ramya was one of the first to start educational programs and labor preparation antenatal classes for expectant couples in Visakhapatnam. You can know more about the programs from Blissful Pregnancy website.
Professional education and training:
MBBS, Andhra Medical College
DGO, Andhra Medical College
Fellowship in Applied Nutrition, Apollo Hospitals
Certified Childbirth Educator
Memberships:
She has successfully treated patients who have infertility, fibroid, adenomyosis, ovarian cysts, endometrial polyps, tubal block, and ectopic pregnancy. She also offers treatment for Polycystic Ovarian Disease (PCOD) / Polycystic ovary syndrome ( PCOS ), Abnormal Uterine Bleeding ( AUB ), Fibroids, and Endometriosis. She also offers customized diet plans for PCOS, Pregnant Women & Lactating Mothers.
Dr Ramya specialises in
Gynaecological & Obstetrics problems
Antenatal & Postnatal Care
High-Risk Pregnancies
PCOS/PCOD Management
Infertility Treatment
Lactation Consultation
Lamaze Breathing Technique
Pregnancy Fitness & Yoga
Diet & Nutrition during Pregnancy
Clinical Nutrition
Dr Ramya strives to provide the most comprehensive & Individualized care to patients. She believes in making patients understand their symptoms, diagnosis, and the proper steps to take towards optimal health.